via John Perrault's Artopia:
March 22, 2009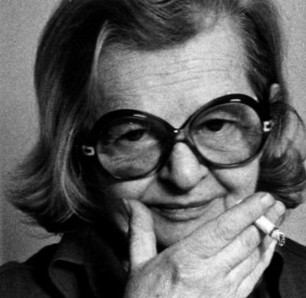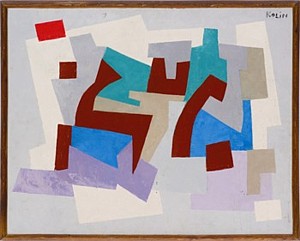 Sacha Kolin, Departure, 1954
What The Art World Was

This is an odd, but fascinating book. Look Up: The Life and Art of Sacha Kolin by Lisa Thaler (Midmarch Arts Press, 2008) is the tale of an artist  written not by an art historian, but by a genealogist and/or, as the author seems to prefer, a "family historian" using her professional tools ... and then some. In an afterword, Thaler discloses she was drawn to Kolin's story for three reasons:


 I was curious about the children of the so-called illustrious immigrants. Little has been written about this younger generation of refugees. I was surprised that a prolific, exhibiting artist could have so quickly fallen into obscurity. And I was challenged by the research constraints and saw potential for innovations in my field. Could I read a painting the way I read a birth certificate?

This is the story of an "almost," an also-ran, a could-have-been -- yes, a failure --who, according to many who knew her, was energetic and charming. For an art historian, art critic, or curator there would be no cash value or prestige in writing about a failed artist. We are, therefore, often denied the nitty-gritty taste of the real lives of artists -- most of whom are not superstars. Here we get the taste -- the bad taste.

If Look Up were to be made into a movie, it would show Kolin's art in 1981 being tossed into a dumpster outside an expensive Soho loft, then cut to author Thaler discovering a painting by Kolin in an art auction, falling in love with it, and finding out that she and a collector cousin now had Kolin in common.

Books about artists are either promotional tomes, often with serious and brilliant essays by noted art critics and art historians, or at the not-so-distant other end of the commercial spectrum, pop entertainments of the Lust for Life variety.

Concerning the latter, who now wants to read about the lives of artists when most are businessmen or -women? It's not entertaining to read about a visual arts CEO and his (mostly his) struggle with auction houses, dealers, and tax accountants.

But can you imagine -- even if you like his art, which I do -- a novelized life of Damien Hirst? Art has, alas, been thoroughly demythologized.

Look Up is a window into an art world that no longer exists. I don't think I ever met Sacha Kolin, and I am glad of that. But I could have met her. It's a Facebook (or as, I call it, Facebutt) Effect: we had a few "friends" in common, and many more friends of friends. Far too many friends of friends. The author and I also overlap. Although she lives in Chicago, she studied contemporary art at Hunter College with Mary Miss, a sculptor I know.

[read on...]