Pictured: Dr. Abushady and Annie (with Fahmy) in Benson (ca.1922). Photo courtesy of David and Peggy Sidebottom, Toronto, ONT and the Abushady Archive.



Piss & Vinegar (art and ferment)
a project by Joy Garnett
for
FOODshed
An exhibition of upstate/downstate NY artists who work with food and agriculture
Curated by
Amy Lipton
Smack Mellon
92 Plymouth Street @ Washington
Brooklyn, NY 11201

Gallery hours are Wednesday - Sunday, 12:00pm to 6:00pm
Directions
ARTISTS:
Joan Bankemper
/Black Meadow Barn;
Joy Garnett
; Habitat For Artists Collective (
Simon Draper, Michael Asbill, Carmen Acuna, Dan McGinley, Brandon Cruz, Jessica Poser, Lisa Breznak and Sean Corcoran
);
Natalie Jeremijenko
;
Kristyna and Marek Milde
;
Peter Nadin
/Old Field Farm;
Leila Nadir + Cary Peppermint
(EcoArtTech);
Andrea Reynosa, Brooklyn Grange and Alloy
;
Bonnie Ora Sherk
;
Jenna Spevack
;
Susan Leibovitz Steinman/Mona Talbott
;
Tattfoo Tan
;
Elaine Tin Nyo
;
Linda Weintraub
Exhibition Dates:
June 7 to July 27, 2014
Artists' reception:
Saturday, June 7, 5pm-8pm
FOODshed: Agriculture and Art in Action
focuses on sustainable agriculture, entrepreneurship, and artists' use of food as subject matter or medium. The exhibition and programming include 14 exhibiting artists in the gallery at Smack Mellon, 3 public projects in the nearby DUMBO community, as well as public workshops in collaboration with the artists in the exhibition. The gallery exhibition features artworks and inventive projects around agriculture and food that address farming as both activism and art form. Many of the artists in this exhibition are known for bringing community-specific issues into their work and are exploring the real-world implications of small-scale farming and raising community awareness about our food systems. Their varied practices include growing food, cooking food, raising animals for food, and engaging communities around local food production as well as instigating new artist-based economies.
More about FOODshed
FOODshed on Facebook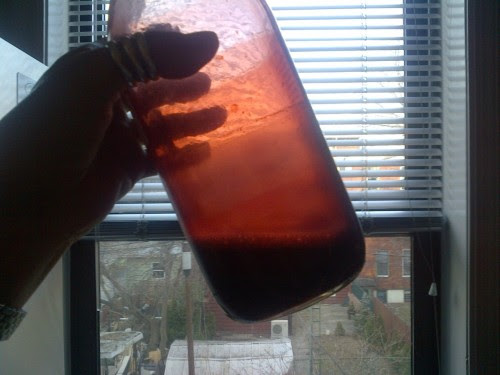 Joy Garnett: Piss & Vinegar (art and ferment) is an installation of artworks and foodworks that reflect the pioneering DIY industriousness of the artist's maternal grandparents: Egyptian poet and beekeeper Dr. Ahmed Zaky Abushady and his English wife Annie (née Bamford). As steward of their archive, Garnett produces works that reflect its compelling intertwining narratives. The installation for FOODshed at Smack Mellon includes two limited edition prints based on images drawn from the archive; a batch of Garnett's bottled home-fermented red wine vinegar, labeled with an adaptation of Dr. Abushady's logo; and photo-documentation of both the Abushady's apiaries and Garnett's own DIY vinegar-making process.
Background:
Dr. A.Z. Abushady (1892-1955) was an influential Egyptian poet and Victorian polymath who lived and worked in England and Egypt. A physician, bacteriologist, beekeeper, inventor, litterateur and publisher of an array of scientific, cross-cultural and poetry journals, Abushady was an indefatigable builder of libraries and institutions. His wife Annie was an independent-minded globetrotter and self-described freemason. She came from a family of Stalybridge cotton weavers descended from Samuel Bamford, the renowned 19th-century labor organizer and author of Passages in the Life of a Radical. Together, Annie and Zaky introduced innovations to agricultural and beekeeping practices in England (1919-1922) and in Egypt (1922-1946). As a team they were full of piss and vinegar.
In 1919,  Dr. Abushady founded a bee research institute called The Apis Club in Benson, Oxfordshire, with an apiary of 600 hives, and launched a scientific journal, Bee World, which continues publication to this day. After returning to Egypt, he established its Egyptian counterpart, The Bee Kingdom League and its bilingual journal, The Bee Kingdom (Al-Mamlaka al-Nuhal), printed and headquartered in Alexandria.
A heady mix of nature poetry, political idealism and Utopian visions fueled Annie's and Zaky's thinking. At the apiary in Benson, they implemented principles of the 19th and early 20th century English Co-operative Movement, exporting them to Egypt when they relocated there in 1922. These are the same principles of agricultural and economic co-operation that provide the foundation for co-ops around the world today. "Piss & Vinegar" celebrates the temerity, ingenuity, and perseverance—qualities inherent to DIY undertakings—of the Abushady's prescient implementation of standardized practices and co-operative principles in their day.
Links:
Additional images
FOODshed images on Facebook
Artist homepage: http://joygarnett.com
…
Press clippings / related articles (PDFs):
Download GARNETT-Hyperallergic-2013
Download GARNETT-Arabic Literature 2013
Download GARNETT-C-Magazine-2011